I recently purchased an Asus Zephyrus G15 (2021) laptop with a Ryzen 9 5900HS processor and RTX 3070 GPU. I really enjoy the light weight, relatively diminutive size and curiously long battery life of this machine which also packs a performance punch when needed. However, one thing I was not prepared for was Asus and their lackluster firmware/drivers/etc. for basic things like the keyboard. I don't want to turn this into a long post because if you show up on this page you are probably just looking for the fix. So to keep it short…
The Problem:
Often times after reboot, or waking from sleep/hibernation I would find that several keys on my keyboard would simply not function. In my case it was the G, H, and E keys pretty consistently and occasionally the I key as well. It wasn't just a matter of sensitivity, the keys were for all intents and purposes "dead." Thankfully a USB Keyboard would work just fine but that really limits your portability.
Sometimes a reboot would fix the issue, sometimes not. Sometimes after holding the keys down they would suddenly all start working (until the next sleep/reboot/whatever cycle). I verified that when this issue was occurring, it also showed up in BIOS as well.
After dealing with this for a couple of weeks I also realized that when these keys were dead, so to were all of my special function keys (like adjusting keyboard backlight brightness or fan speed). I was really concerned it was a hardware issue (like a short with some of the switches or the cable). Thankfully, I am pretty certain it was not, and I am typing this post from the laptop.
The Suggested "Fixes"…
Asus has a YouTube video and an entire page on their support website dedicated to keyboard issues… which is rather telling… Those two resources will direct you to try uninstalling the driver for the keyboard, rebooting the machine, disabling "sticky keys" or resetting/recovering the entire machine back to factory. While I never tried doing a full system reset/recovery – None of the other items consistently fixed the issue for me.
The Actual Fix:
After banging my head against the desk in frustration and not finding an answer anywhere online, I finally did a bit of windows sleuthing. I didn't find any smoking guns in the event log however I did notice that Asus has a plethora of background services that run, most of which come installed with the "Armoury Crate" application. One of those services in particular is responsible for managing the advanced functionality of the keyboard. That service is the (oh so clearly named… albeit ironic 🙂) "Asus Optimization" service. By default, it is set to automatically start when Windows does. If you disable this service, you will lose all of the advanced function keys and the dedicated Armoury Crate and Microphone mute keys (while it is disabled).
To solve my issues, what I did was go into services (start menu, search for "services") and disable all of the "Asus" services except for the update services, the Armoury Crate service, and the Asus Optimization service. In the case of the optimization service, I changed the startup mode to "manual."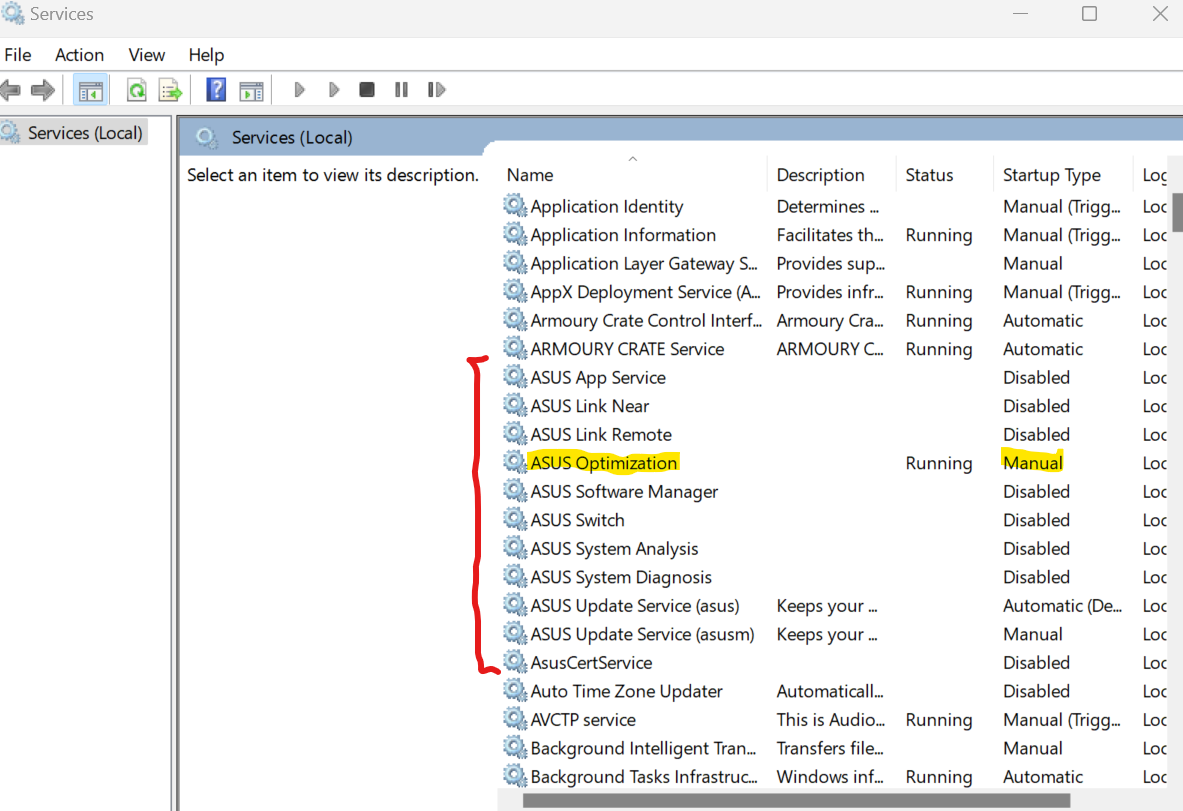 I did a bit more digging around online and determined it was safe to disable the other services (as shown in the above screenshot).

After I boot my system now (from shutdown) or when I wake it from sleep, I still have a fully working keyboard but sometimes won't have working function keys (particularly after a shutdown cycle). To get them working again, I just wrote a small batch file that will start the Optimization service (this just needs to be run as admin). Alternatively, you can start the service directly from the services panel. You could also just run these commands from an elevated command prompt (this is what I stuck in a batch script):

sc stop ASUSOptimization
sc start ASUSOptimization

A word of caution – I would advise you to have a USB keyboard/mouse available when playing with these things as you can really lock yourself out if something goes awry. That said, it's well worth it to me as I now have a significantly more reliable laptop keyboard.

Final Thoughts
The following is just a bit of personal supposition – the fact that the keys didn't even work in BIOS was particularly disturbing to me until I realized that the keyboard backlight color often remains the same, even outside of Windows, to whatever the last color is that I set it to using the Armoury Crate app. My guess is that the keyboard has some small local memory that settings get written to and that there is a bug in whatever application (tied to the Asus Optimization service) that writes those settings such that it disables random keys.

Anyhow, I was about ready to throw in the towel and return the laptop. Thankfully it's a software/firmware issue though and Asus just needs to get their quality assurance act together and fix it. In the meantime, this has given me a working laptop and I hope it does the same for you if you are dealing with similar headaches.

10/28/2022 – Update – unfortunately this didn't fully fix the issue. It still crops up after wake from sleep/shutdown from time to time. Something that does seem to "wake" the dead keys back up is (while the optimization service is disabled) to hold down the function key and hit all of the function keys. This is really annoying but does seem to eventually get the dead keys to come back to life.

11/26/2022 – Update – still having issues with this – another thing I have tried which occassionally seems to wake these keys up is to make sure your optimization service is running and the two armoury crate services. Go into Armoury Crate, on the left-hand side there is a tab you can go into for service profiles – go into that and create a new profile and set it to disable the ROG key (pretty innocuous) and then set that profile to run when notepad is open. Save the profile. Now go open notepad and like magic your keys all start working. Like all previous fixes I have no idea if this will actually work consistently. These keys "waking up" (along with all of the function keys secondary functions) seems to be very hit or miss. Once they start working they just work.

11/28/2022 – Update – I completely uninstalled armory crate – that didn't fix the issue. I finally found a download link for the ATK hotkeys package here: https://dlcdnets.asus.com/pub/ASUS/nb/Apps_for_Win10/ATKPackage/ATK_Package_V100061.zip

That works on both windows 10 and windows 11 (64-bit) – I installed that and upon reboot my keys were all working. Then I started typing and they stopped again (ugh…) – however I had read on a random forum post that you can go into this folder: "C:\Program Files (x86)\ASUS\ATK Package\ATK Hotkey" and run the HControl.exe file. I did that… and my keys immediately started working again! I will test this some more but hoping that this is finally at least a quick solution for getting my keys back.

1 of 1